Trump is killin' all the nanas, even those of his political "friends".
I've been so angry today…the folks next door are STILL having gatherings, arriving in Caddy SUVs and a huge Dodge pickup (PLUS they have five cars of their own) outdoors, but no masks (I'm guessing they're not wearing them inside, either)…and I'm stuck in the house, with not even enough gas in my car to go for a nice ride, and no money to buy more.
I just don't get it.
And in Melbourne, Victoria, Australia, a state of emergency has been declared. As of 6pm last night, we moved to stage 4 of lockdown 2.0. With a curfew from 8pm to 5am. I missed this news as I was sleeping after work. It means that, as a nightowl, I can't grocery shop at my customary time of after 8pm. For the next six weeks, at least. Oh well, whatever it takes to get this plague under control.
I found out about on FB from Carly Findlay, whom I follow. I hope things are better there than they are here in the US!
Remember Stephnie Weir from "MADtv"? This is hilarious!
I just picked up a prescription from a tiny local pharmacy. The prescription had to be compounded so there's only a few places I can get it. There's only one or two people who work there, and the hours are limited.
They keep the door locked, I suppose because it is really tiny store. I was supposed to call them when I got there and wait outside. The only person with the key was in the bathroom, a situation I can identify with, so that wasn't a problem.
Five minutes later the compounding pharmacist, whom I know from previous refills, walked out with the drug.
I was wearing a mask of course–but she wasn't. You'd think a health professional would know better.
Also, I was wrong. It's been declared a state of disaster, not state of emergency.
Anyway. Most retail stores, manufacturers etc will be required to close from either midnight tonight (Tues) or tomorrow night. No childcare centres open, schoolkids are back to remote learning. Kids with essential worker parents were allowed to attend school last time but I'm not sure this time.
Um, what else? There's a slight irony in that my work-from-home job which deals with most Australian states went back to pre-pandemic hours just last week. And that at the age of 47, I'm finally going to have to learn to adult properly and shop etc - where I can - during the day because the curfew's been enacted. Goodness me!


Good luck to you! It's not as difficult as you may think!
Police said this trend included so-called "sovereign citizens" - who espouse an anti-government ideology - confronting officers.
Yeah, that looks perfectly safe.

Welp, the conservatives got their dumbing down, all right.
(and the dumbing-down part has a great deal to do with our current sitch)
Went on a short pre-curfew trip to the chemist (pharmacy/drug store) and supermarket. Left my place at 6.30pm! Wore these: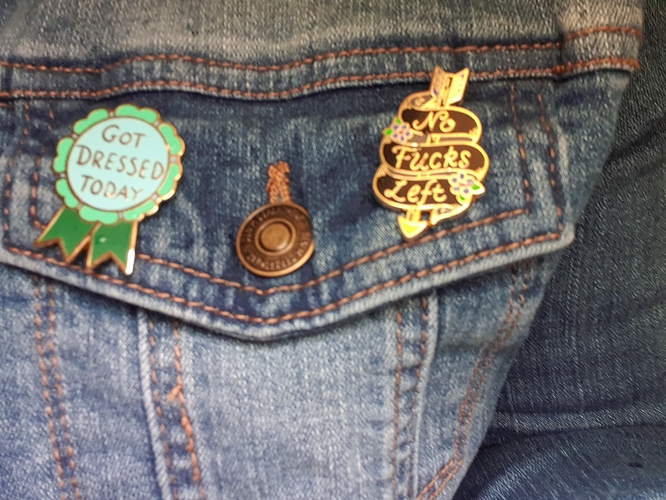 How am I doing at adulting so far?
have not taken a shower today;
still in yesterday's clothes;
have I eaten? it's already past lunchtime;
to-do list for the day only slightly shorter than this morning.
Yeah, in comparison, you're adulting beautifully!
I changed the sheets on my bed, took a shower, made chocolate sugar (was trying to make fudge - am going to try cooking it some more and see what happens) as I used granulated sugar instead of powdered (and the p-s container WAS RIGHT THERE IN MY LINE OF VISION).
I'm working on getting myself geared up to do a Edith Ann/Dot Goddard-style video called, "Trixie's Hats!". I would be six years old (no glasses) and would talk about my hats while wearing them and pretending to be different people wearing them. It could be good for about twenty videos, not sure; I haven't counted how many hats I have, but there's at least twenty. And one in the garage, lol.
Holy fucksocks;, it has been that long ago already, hasn't it?