It's probably the language he heard his father & his cronies using.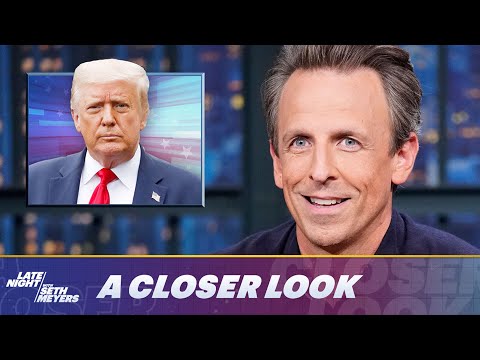 Why hasn't this show won an Emmy yet? Maybe next year, because of the opening for tonight's "A Closer Look".
Remember when John Lennon caught holy hell for saying that the Beatles were more popular than Jesus?
…and why do I think that the people who support the ex-POTUS are the descendants of the people who held mass burnings of the Beatles' records?
Zomg, I can even hear the voices of Ms. Dumont & Mr. Marx speaking those lines!
sentenced to more than 7 years in prison
Young admitted that he used a strobe light to disorient police, helped throw a large audio speaker at police, grabbed Fanone's wrist when the D.C. officer was abducted by the mob, and made contact with another officer abducted by the mob.

Young's 86-month sentence matched what federal prosecutors sought in the case. They argued that Young took part in the assault at the lower west tunnel where "some of the most barbaric violence" took place on Jan. 6. As discovered by online sleuths, the government argued that Young handed a taser to Danny Rodriguez, a MAGA fanatic who used it to electroshock Fanone in the neck on Jan. 6.
Migawd, I hope all the time, effort, & taxpayer money going into all the suits/appeals/you know what I mean bring about some results that are not in his favor & that completely destroy his image and credibility w/his base.
Hey, I can dream, can't I, lol?
On the southwest corner of the intersection of 10 Mile Rd. and Groesbeck Hwy., in the city of Warren, Michigan, a vendor has set up shop on in the corner parking lot of a Valero gas station that's closed. He's selling merch for the guy who was POTUS prior to Biden. I just called the city clerk's office to see if they needed a license to do that. However, the lady I spoke to wanted to know the address (which I didn't know), so she could forward it to the building inspector. The location seemed to be enough info, though.
This is a quarter-mile, give or take, from my house. I take great offense at it being in my neighborhood. I don't like Biden, either, but I don't want him to die of stroke on worldwide TV; let him do it in his sleep.
No way am I going over there to see if he's got a license taped to a pole or something!
It's too cold and windy!
I found the building on Google Maps. Can't see an address, but Maps lists it as:
GROESBECK SUNOCO
24991 Groesbeck Hwy, Warren, MI 48089
Guess what? The vendor was gone today!
But there was a train that derailed in that area earlier today, so…but he wasn't there when my son & I passed there between 5 & 5:30 pm.
And I can't even use the train wreck as a metaphor for the ex-POTUS, as no one was hurr.