past, now, future, and present
yeah, that's confusing.
I thought…the present WAS now?
Yeah, I was being facetious. I didn't even realize there were 16, though I think I understand them all, and may have even used them all. Interesting how the brain can use complex things without being able to list them.
Now that we have time travel, we'll need a whole slew of new verb tenses.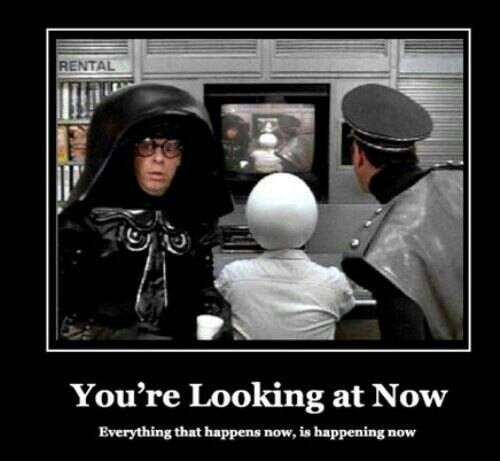 it verbs
it verbed
it will verb
it is verbing
it was verbing
it will be verbing
it has verbed
it had verbed
it will have verbed
it has been verbing
it had been verbing
it will have been verbing
it starts getting silly if we count it is going to verb as a separate tense and permute it with the others
During the english enlightenment, many writers decided graft Latin grammar and spelling into English (islands). Latin never splits infinitives, German splits them almost as a matter of course.
We have present and preterite, and then use auxiliary verbs to create more tenses. Have, will, shall, be, been, did, etc. Not all apply in all dialects.
P.S. Of course have and have to have opposite implications. almost any present verb+to+present verb implies something in the future or potentiality…
I know enough Mandarin to know that verb tenses are the worst concept to try to teach Chinese students of English first!
OK, so, to put it in very broad terms: you don't have verb tenses in Chinese the way you do in English.
I go to the store yesterday.
I go to the store today.
I go to the store tomorrow.
So, your students won't even understand what you're talking about.
Well, they've had prior acquaintance with these concepts in English class, so they needn't be completely lost.
I just heard from a Chinese friend that they do indeed teach that there are four main verb tenses in English. So, I'm just going to not worry about what they usually teach because I can't relate to it.
maybe there's a "zero income affidavit" that you need to file?
When they have "MUST" in all caps, they're not messing around. ModestNeeds.org is the same way, as well as help from the MSU Extension program for property taxes; one has to have at least a part-time job to qualify for them.
And if I'm gonna work a gig-job, it's going to be for ME, not for some company.
Bloody hell. Now I've got to pull together a lesson (simple past) with practically no prepare time. At least, if I want to get decent sleep.
Grumble, grumble…
A very late Thank You! on that info. Unfortunately Verizon's disabled that number, so I'm doing research on ADB to see if I can do the same with that program. I think I can, but I'm going to research it a bit more first.
This last week felt like I'd moved to Total Drama Island† and all I wanted is some quiet normalcy this weekend.
But since we are moving into the final quarter of the weekend and I haven't approached anything like normalcy yet, I guess I'll just give up and go mow the lawn that no one seems to be able to.
† The primary driver of Total Drama Island will likely be posted in the future once some decisions are reached by the local governmental agencies tasks with those decisions.
BACK-TO-SCHOOL SALES ADS are rrrrrrrrrrreallly grinding my gears - like everything is NORMAL! What the jee-jiminy fuck?