Well, that was a fun year.
The good news is, it's almost over. The bad news is that 2020 left us so defeated that, come January 1st, we half expect it will simply begin anew, placing us inside an interminable loop so that we may be repeatedly confronted by our own collective and individual failings until such time as we absorb the life lessons necessary to escape.
At least we'll have tweets?
Here now is our annual roundup of the best and worst micro-missives from the broader Canadian mediasphere, in chronological and no other order:
OK, so, I specifically argue in the piece that he has no gravitas. https://t.co/TdJm24yOOX

— Chris Selley @cselley January 10, 2020
Everyone thinks I'm @TanyaTalaga https://t.co/vxkiWCeWkj

— tanya tagaq @tagaq January 10, 2020
Everyone thinks I am @tagaq. Was interviewed recently by a journo, who started off by saying, "I loved your performance in Calgary …" had to say I haven't been to Calgary in 20 years! https://t.co/H4GCRZLNVg

— Tanya Talaga @TanyaTalaga January 10, 2020
My son came home from school with the most boring colouring book of all time. pic.twitter.com/cMQzYBJnhS

— Jeff Gray @jeffreybgray January 30, 2020
The protesters just stand there shitting their pants, totally stunned, as the scent of pure testosterone and vigor wafts past their nostrils and overwhelms their soy-dullened senses.

Ladies, we almost don't deserve Alberta men. https://t.co/ImGS8zoxIs

— Sheila Gunn Reid @SheilaGunnReid February 20, 2020
The original version of this story, and corresponding tweet, had the term 'Dirtbag Left' in the headline without quotation marks. That tweet has been deleted. The quotation marks were added to emphasize the term is a self-described nickname.

— CBC World News @CBCWorldNews March 3, 2020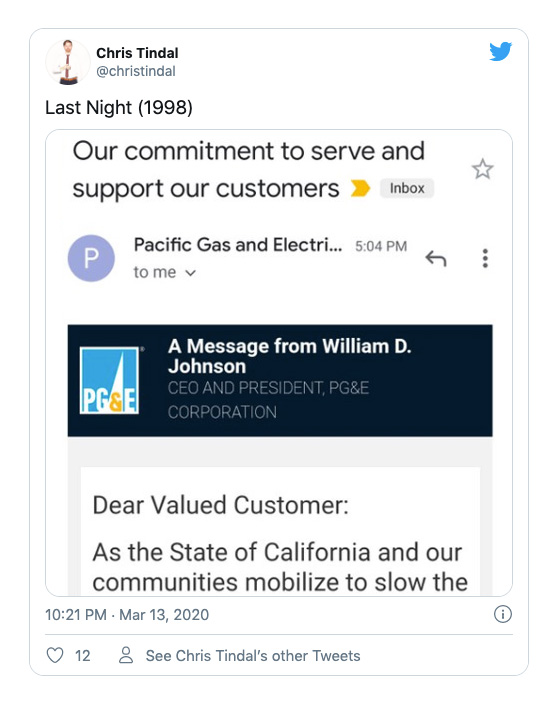 You don't know how generous this is. I work there and I can only read 10 free articles per month on my account. https://t.co/fP3kLn3hkJ

— Chris Selley @cselley March 17, 2020
I literally work for the CBC and I am literally talking about them

— Lauren Pelley @LaurenPelley March 18, 2020
Canadians bristle at stereotypes, and then use "the length of a hockey stick" as pandemic guidance. https://t.co/sPpPp6FdTW

— Ivor Tossell @ivortossell March 25, 2020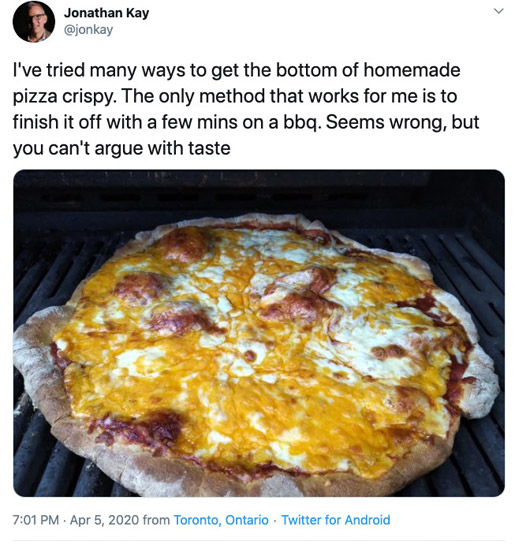 It's amazing how my twitter account has been managed by the Chinese.

No increase in followers for months @jack.

I wonder why?

— realNickKouvalis @NickKouvalis April 11, 2020
Nova Scotia, normally equated with stunning beauty and smoked salmon, is now the site of Canada's worst mass shooting, by an apparently deranged denturist who liked to dress up as a Mountie. @ianrausten @Magraki https://t.co/b56CqMLwkY

— rickgladstone @rickgladstone April 20, 2020
So apparently this "Stronger Together" show
is happening tonight on TV…
I guess my invitation must have got lost
in the mail :O RS

— Ron Sexsmith @RonSexsmith April 27, 2020
My gf @Grimezsz is mad at me

— Elon Musk @elonmusk May 1, 2020
Look to all you people who think we are @checkupcbc we are not. We run Xc and distance track. Please stop involving us In Canadian politics.

— CBC Cross Country @CBCCrossCountry May 3, 2020
Happy Sunday! @CBCSunday pic.twitter.com/EHMiAkoDcx

— Emily Klatt @emdashklatt May 10, 2020

is it true she's single?

— Raffi Cavoukian @Raffi_RC May 13, 2020
Suddenly amazed to think that humans even had children before public schools and summer camp existed.

— Jesse Brown @JesseBrown May 20, 2020
I fully intended to properly physically distance but it was very difficult to do. I wore a mask into the park but I failed to use it properly, another thing I'm disappointed about.

— John Tory @JohnTory May 25, 2020
Thank you to the Korean community for their generous donation of PPEs. Incredibly grateful to @MofaToronto , members of KOTRA and The Korean Chamber of Commerce! @StanChoMPP @C_Mulroney pic.twitter.com/pl8g8WuwVZ

— Raymond Cho @RaymondChoPC May 27, 2020
If you look closely at the photos in this tweet, you'll see that @RaymondChoPC, a cabinet minister in the Doug Ford government, sent a cardboard cutout of himself to this photo op. #onpoli https://t.co/AtKoylgTIb

— Mike Crawley @CBCQueensPark May 27, 2020
Yes, yes Irene should indeed read that story. pic.twitter.com/g07Fs64Kmu

— Irene Gentle @IreneGentle May 29, 2020
UPDATE: Authorities have lost containment of the moose. #ottnews

— 580 CFRA @CFRAOttawa May 29, 2020
I have a black lab and a white lab. They don't fight over their color. pic.twitter.com/G7zDvvMMJO

— Warren Kinsella @kinsellawarren June 2, 2020
Now the sentence, "There are few black journalists in Canadian newsrooms" will be replaced with, "There are few Black journalists in Canadian newsrooms." pic.twitter.com/eHmXBDrJQy

— Davide Mastracci @DavideMastracci June 8, 2020
This also reminds me of the time where the former exec producer of The National had a full conversation with me thinking I was the now current host of the show, who is also Asian-Canadian.

Every now and then he'd see me in passing and call me "Andrew" https://t.co/P6cHv7KhIc

— Adrian Cheung @adrianwkcheung June 9, 2020
If anyone is interested, the former exec I mentioned in a previous tweet reached out and — well, see for yourself.

How do you flunk the test when I literally gave you the answers? I am done with this conversation pic.twitter.com/18HOANJFPW

— Adrian Cheung @adrianwkcheung June 11, 2020
Our art was a little controversial but I won't apologize for having the Adam/Doug Ford figure nude. The original was nude with a classic penis and it would be fatphobic to have him covered. This art was a celebration of legalization and something we will always treasure. pic.twitter.com/tQuAreyzli

— Calyx + Trichomes Cannabis @CalyxTrichomes June 16, 2020
In 1883, a drink called "Cronk" started advertising in the Calgary Herald. See if you can spot their ads. pic.twitter.com/yg3dMRDkY6

— Paul Fairie @paulisci June 21, 2020
They are treating him like he's Jack Handy pic.twitter.com/2NuJ0miUV5

— Just Disappointed Monica @monicarooney July 3, 2020
Folks it's that time of year, when everyone grits their teeth and issues a reluctant congratulations to Canadaland like they have a gun to their head.

— ishmael @iD4RO July 10, 2020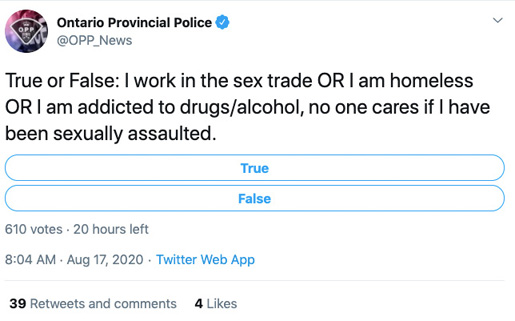 "Rob Ford" is trending right now because everyone in Toronto is flipping back their hair in a cool way and going "Oh, Daniel Dale? Yeah, I was into him before it was cool. Y'know, some of his early underground stuff on the Toronto scene, before he got signed." pic.twitter.com/JoZNGN7Cg0

— ℳatt @matttomic August 28, 2020
John Turner played key roles in modernizing Canadian laws and consumer rights; the FLQ crisis; trying to resist the economic tides as the post-war boom fizzled in the 70s; the Free Trade and Meech debates. I enjoyed him once remarking, without irony, on my eyes being so blue.

— Ed Greenspon @egreenspon September 20, 2020
Star Trek is what the world will look like if the woke win. That may sound like a compliment to those who haven't stopped to think about what living in such a world would actually be like.

— Jen Gerson @jengerson October 8, 2020
Hello. Some of you might be wanting to engage in the sex this weekend. Please be safe & #BeCOVIDwise:
– stick to sexual partners you live with or consider virtual sex
– wash your hands before/after sex
– use a condom
– avoid kissing/sex if you're sickhttps://t.co/PxggNSqLqN pic.twitter.com/vVWerNz4Xm

— Ottawa Public Health @ottawahealth October 9, 2020
I have never heard anyone mispronounce "Ottawa" the way @TuckerCarlson does here. Very odd. pic.twitter.com/8nHEqEJsJk

— Andrew Feinberg @AndrewFeinberg October 10, 2020
I try to tell stories that are depressing and uneventful enough that people can recognize themselves in them. https://t.co/o93NYDx2sw

— @realSarahPolley @realsarahpolley October 20, 2020
It's not something a real @realDonaldTrump friend would do. A friend would know this @POTUS doesn't give up because the climate is not comfortable. A friend would let him make his own call and not try 2get out front of it to save face. You don't need friends like that.

— Joe Warmington @joe_warmington November 9, 2020
Hi Joe, thanks for the expert guidance on what constitutes a 'real friend' of President @realDonaldTrump.
He called me for a very friendly 25-minute chat two weeks ago.
When was the last time you spoke to him? https://t.co/GKzqcTy2M5

— Piers Morgan @piersmorgan November 9, 2020
Oh hi, moose. We have strict instructions about your snack habits. #jasper #Alberta pic.twitter.com/xSNo7YBrXS

— Carolyn Campbell @_CLCampbell November 15, 2020
For all of my followers who don't know what's going on:
1 My area had COVID 99.9% under control
2 So much so that the whole country was jealous
3 Someone fucked it all up and ruined our peace
4 His actual government name is CORTLAND CRONK
5 We are coping by cyberbullying him

— 𝙖𝙡𝙞 ͡° ͜ʖ├┬┴┬┴ @digital_shawty November 26, 2020
my friend ordered a meal kit and this was one of the packaged ingredients… we all deserve to die pic.twitter.com/6IYLwsowFH

— Taylor Rivers @taylorivers December 8, 2020
My mom grew up on the same street as Smokey Robinson in Detroit. So for Chanukah, I wanted to reunite them via @Cameo. But the video takes a strange twist. pic.twitter.com/IZ3S9WusiJ

— Jeff Jacobson @jeffjacobson December 13, 2020
JJ: Canada has moose cops
Wapo: never heard that before
JJ: moose cops and a revenge-based healthcare system
Wapo: never heard that either
JJ: it's what the liberal media won't tell you, only me, a Canada expert horny for America
Wapo: well I guess you're hired

— Harrison Mooney @HarrisonMooney December 17, 2020
Who can forget pic.twitter.com/jJ5gSt2rW6

— "sarah" "hagi" @KindaHagi December 25, 2020
I think you should be getting our newsletter
Get a weekly note about our top stories.
This is a good thing that we do. You'll like this.
The post The Best And Worst Tweets Of 2020 appeared first on CANADALAND.
---
[Canadaland]
https://www.canadaland.com/best-and-worst-tweets-of-2020/?utm_source=rss&utm_medium=rss&utm_campaign=best-and-worst-tweets-of-2020