Anyone else getting this?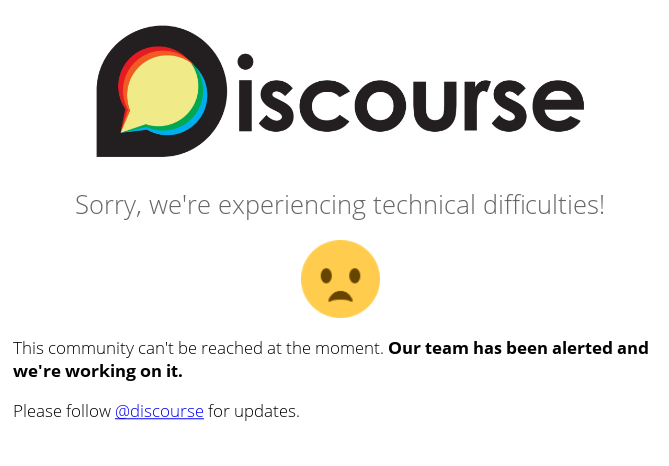 looks to be an issue with discourse… I was almost wondering if we hurt the fee fees of some libertardian h@x0rz today.
That's what I was thinking!

But as you note, it's a general issue, although we're okay…
discourse doesn't host this instance…
I've had a tab open to the other place but hadn't refreshed in days… I'm seeing the same thing, though. It does look like they're working on the issue:
Looks like it's back up! I guess it happened sometime last night.
Well it appears to be working from my phone now
Ah, yes, me too. I guess I decided to visit at just the wrong time, or something

It was not working just a bit ago on the PC.

From the Discourse twitter, it looks like they've been dealing with a DDOS attack for the last few hours.
There's some sort of bad ads being loaded at the front page. There's a prompt to update either Flash or Google Play Protect, and that pop-up can't be exited. It's been showing up all day, and the Mods are on it. The "unhealthy backends" are the latest wrinkle.
I'm not going to try my luck by checking the front page. I typically just head straight for the forum anyway.

I got the Adobe flash thing too. Very peculiar. I wonder if it was legit.
I doubt it. I'm not even sure if Flash is supported any more, and from what I recall, the Update popup always gave you the option to do it later. From what people have said, the popup they got had no way to close it.
Yup, no way to close it. Scary! That made it seem fake.
It was as it is for most sites the ad provider. And it still is a game of whack a mole for them with the bad actors.
it's almost like allowing unvetted actors to place arbitrary code automatically on websites is a bad, bad idea, and even more insulting that it's being done for fractions of a penny