I do get bogged down in semantics at time. Thanks for the wake-up.
Whilst Murdoch Senior has pledged support for Donald Trump, James Murdoch has reportedly contributed hundreds of thousands of dollars to the campaign of Mr Trump's Democratic rival, Joe Biden.

James Murdoch's departure from News Corp would, our correspondent says, appear to grant even more influence to his brother Lachlan who is generally thought to share his father's more conservative views.
I dunno about anyone else, but for years I've found it really difficult to take this woman seriously.
I saw her once when she came to a professor in the department's lab meeting. I think she just likes being near people who are the most famous in their field. I think she's one of those people who would talk to anyone with any power and tell you after that they're just so interesting and thought provoking. I would have no problem believing that she, a generally liberal person, might be fine with her husband's conservatism.
Yes, but…she was married to (ugh) Mick Jagger…wait…no, there is a pattern then, thanks.
Cool. The site mentioned towards the end of the interview, byNWR.com, looks worthwhile. I signed up in April, but haven't properly explored it since.
It seems startlingly interesting.
This happened to me. I didn't put this in the victory thread because…well…I'm not feeling it.
Artwork…This Week
Hey All-
I'm glad to report that we got a GREAT response on our call for artwork for the petition. Unfortunately, we had to cut off new submissions because of the volume. We'll be rolling these out over the next couple of weeks.
We're keeping it very simple for the first graphic This is from Lucy Gothro. (this was submitted as just a sketch outline, but something about the simplicity made it endearing!). You can donate to her at: https://www.paypal.me/miztrixie
PLEASE SUPPORT OUR ARTISTS, FOLKS. ART CAN CHANGE THE WORLD, AND THEY DESERVE YOUR SUPPORT!!
We'll be rolling these out every few days…so stay tuned. Generally: If you are an artist, and are inspired to do any sort of piece about the student loan problem, please send it our way. We love that!!
This Week:
The petition now stands at over 538,000 signatures. We got a huge push last week. I would love to see that happen again, and it will if YOU STEP UP. Will you please paste the link to it in at least ten places where it will be seen? Can you do this today…Right now?? Please just do it. Also, if you could email a news organization, and tell them to report on the petition, it would REALLY HELP.
https://www.change.org/CancelStudentLoans
And of course…boosting the petition is also really helpful. About a third of our signatures have come that way!
https://www.change.org/p/covid-19-economic-response-cancel-student-loans-by-executive-order/sponsors/new
OK Folks. That's it for now. We have 94 days before the election. Time is getting short. Make them count!
Regards,
Alan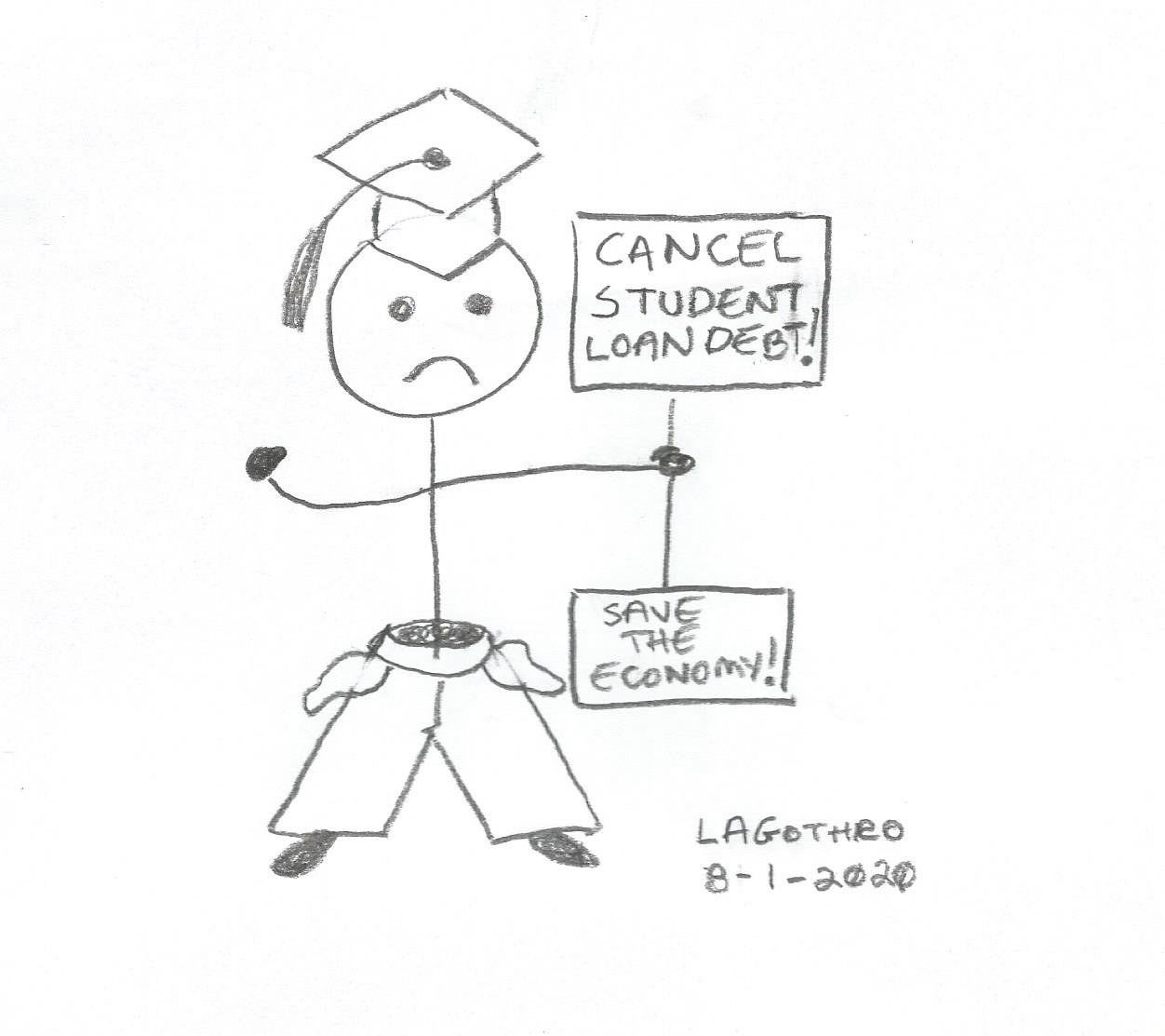 Addendum:

So I Google my paternal grandfather's name, Francis Gothro, followed by USMC, cos he served in WWI.
I get an Ancestry.com page that has other Gothros…and they served in the Confederate Army. Now, it's not a common surname, but I know they're probably kin of some distance because my line came from Acadia - the ancestors of those who travelled to Louisiana and became Cajuns. I'm…kind of shocked, but not…?
One of them is named Danzion. Kinda cool name, eh?
Have you ever dabbled on Ancestry.com. It's a really fun site.
Not sure where to put this one.
I would say that is interesting.
similar to this essay which draws from the same sources
Perhaps the best explanation I've heard for the movement's popularity comes from Adrian Hon, the chief executive of the gaming company Six to Start and a designer of alternate reality games or ARGs. Unlike video games, alternate reality games aren't played on a console — they use the world as their storytelling platform. There's no one particular medium. The story takes place in real time and seems to exist in the world. So game designers hide clues and puzzles in websites, apps and even newspaper advertisements. It's a bit like a networked treasure hunt that turns the world around you into a game.
For Mr. Hon, that phenomenon resembled the dynamics governing QAnon. In a viral Twitter thread and follow-up post, he argued that "QAnon pushes the same buttons that ARGs do, whether by intention or by coincidence. In both cases, 'do your research' leads curious onlookers to a cornucopia of brain-tingling information."