Putting the trailer here.

Personally I thought was great.
I was raised reading Silver-Age Marvel comics. They are to me like the works of the Grimms and Hans Christian Andersen were to the four-year-olds of their eras. It disturbs me that so much has been retconned - things I (lol0 think didn't need retconning, that is. I do understand the need to update characters. What gets me is that they have the storyboards RIGHT THERE done by Jack Kirby and/or John Buscema to go by. Or Walt Simonson.
That having been said, I've heard good things about the this one. And I have seen the other two. What I wanna know is two things: 1) Is Hela in it? 2) Any plans for Beta-Ray Bill (okay, he's Bronze Age, lol)?
I did develop a crush on Tom Hiddleston from "The Avengers". Never seen that TV show he was (is?) on. He replaced Harrison Ford, on whom I had a crush since I saw him in "Star Wars: A New Hope" when it was first released.
OH SHE IS…that green…I'm watching the trailer now!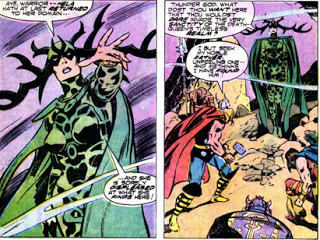 Uhhh…the interpretation of Hela having emotions…ooooooooh, doesn't work for me, you know? She wasn't LIKE that. Totally not part of her character. She only learns emotions after Sif pleads for Thor's life.
Well, so much for progress, I guess.
I dunno. "Sorely displeased" seems to sum up Cate Blanchett's interpretation pretty well. It all seems to be built upon some understandable resentment on Odin's banishment of her, and subsequent papering-over of her role in Asgard history.
As supervillain vengeance goes, her emotional response struck me as remarkably restrained.