So, I belong to a facebook group on illustration (I've since been suspended for posting Beschizza's "We are Zogg" but that's life…
Anyway, this was posted:

which looks to be a depiction of Judith-- the jewish heroin who seduced Holofernes and then killed him.
This bizarre topless outfit does not oiccur in medieval depictions of Judith-- see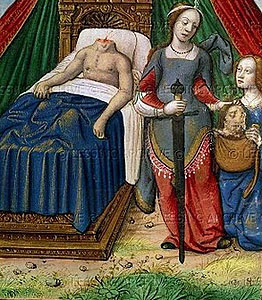 fo instance, but it's quite common in rennaissance deepictions-- and in post reformation germman art.
And then-- there's Salome the daughter of Herod,. who put out a hit on John the Baptist.

Now, in Aubrey Beardsley's illustrations for Wilde's Salome, the same iconography of uncovered breasts is used
And of course, there's Gustav Klimt's paintings Judith and the Head of Holofernes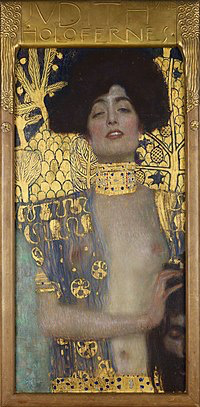 and Judith II (Salome)
So it seems to to me that Judith (a jewish heroine who killed an enemy of the jews) is confused with Salome (a jewish villain who killed someone important to Christians). And this disturbing connection is reinforced in German art after the reformation. Why? Is it some sort of Lutheran anti-semitism? Does the Lutheran translation of the Book of Judith add details that might encourage this translation?
I feel like a good week with JSTOR might disentangle the threads, but I don't have that kind of subscription, or that kind of time.