Theme: Lyra for Windows 7
Other notes: Also running Fences (1.0, freeware version)
My Desktop: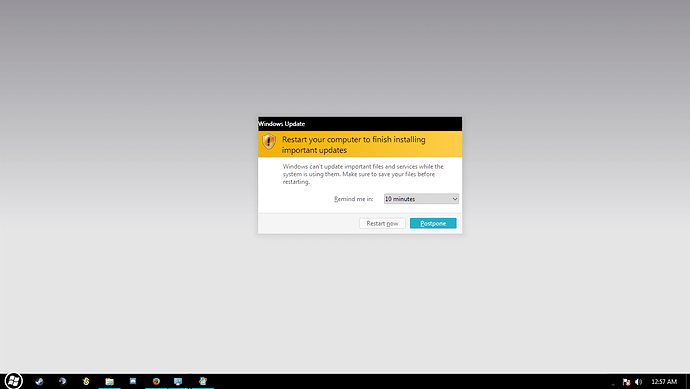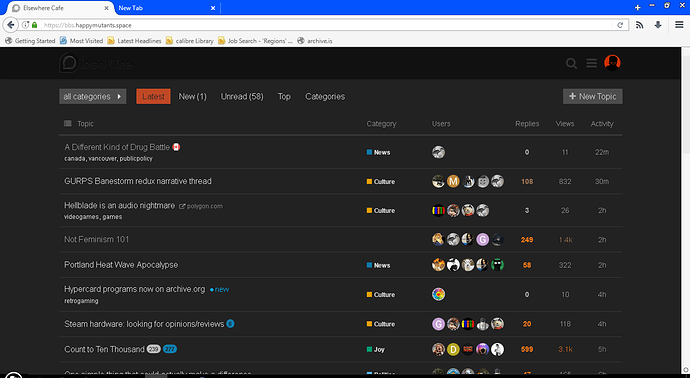 Ok, I don't know why, but why not. My desktop is just whatever Windows 10 decides it should be, nothing more, nothing less. No icons, no nonsense, wouldn't see it behind the windows anyway.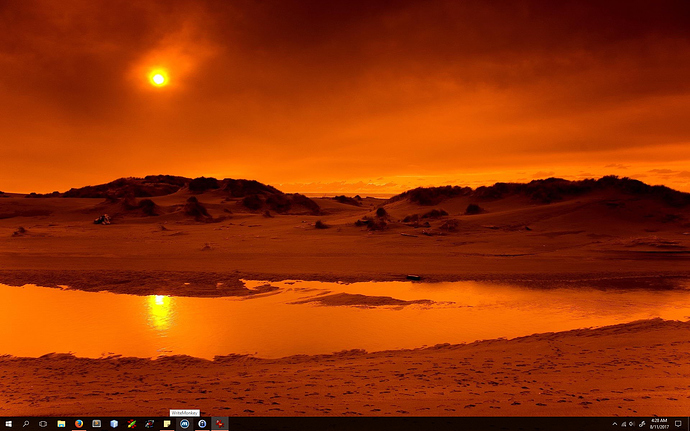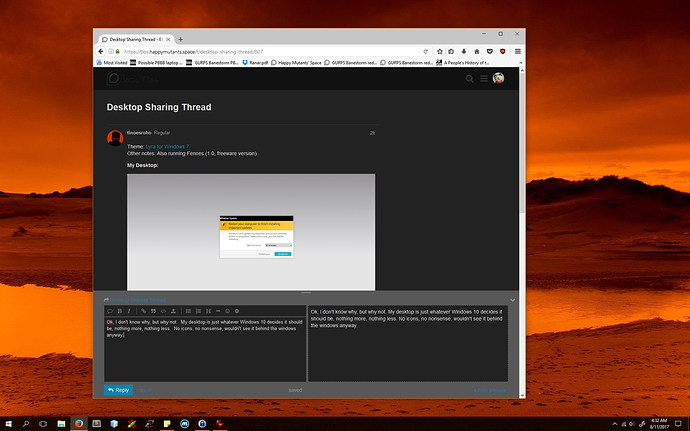 It's an outdoor sumo ring in Kanbashira Park in Miyakonjo. Shot with a medium format camera, the Mamiya c220f.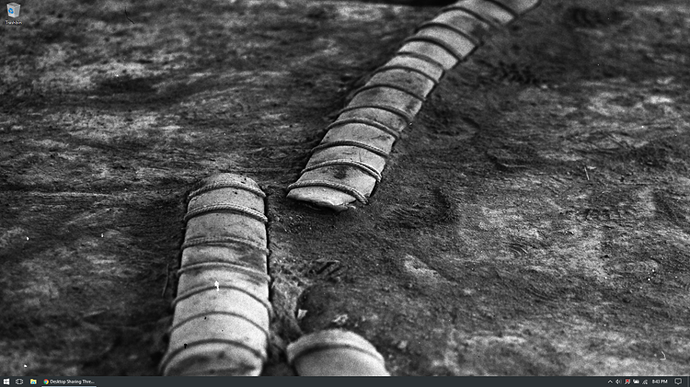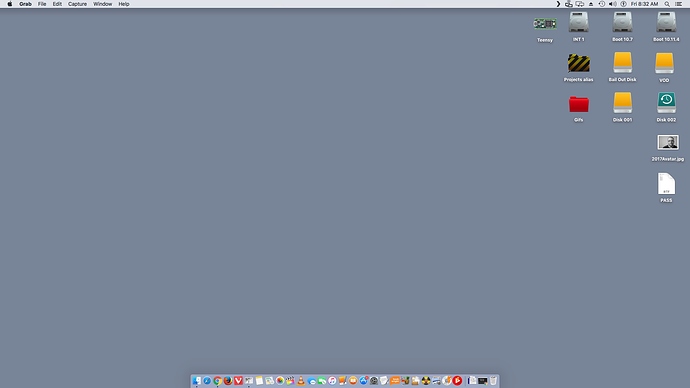 I like my jam mellow, right now. A default grey/blue. Not showing all the disks/drives right now, but that's because I'm set up for some projects today.
Hooray for empty desktops. I would post a pic but a black screen with just the recycle bin is kinda boring but I like it that way.
Very timely. I just got a new computer and have been looking for background inspiration!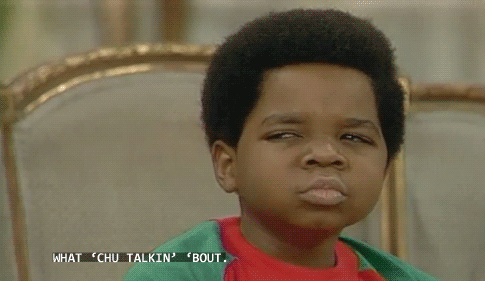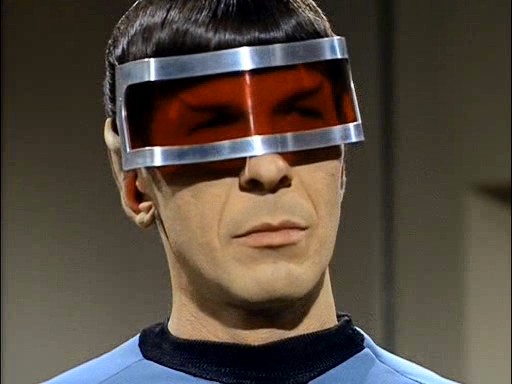 Wow.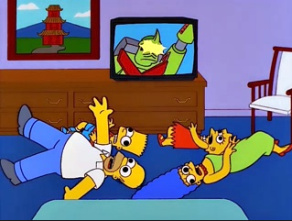 [Great excuse to file away those files!]
OS: Ubuntu 16.04 LTS
Personal login: Standard Ubuntu + Cairo for the menu
Photo: a random find from Flickr, a photo of a sculpture in Argentina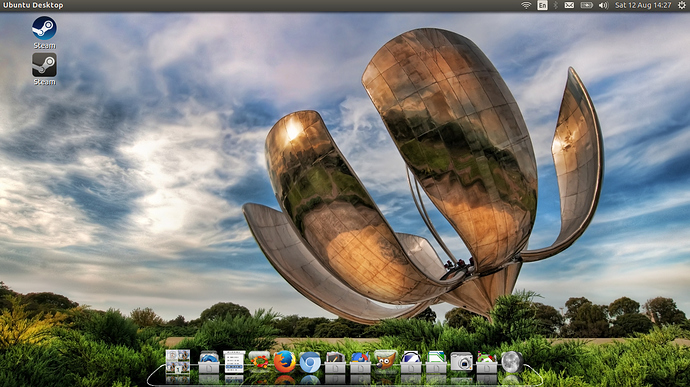 For work I VPN in and then use a virtual Windows desktop. Work is very security-conscious, so I decided "likewise!" and made a login I only use for work. Needless to say it does not have su permissions

. I didn't bother making any mods to this one. It only has the bare minimum in a launcher, things I might need in a hurry in case I can't log in and have to call support, for instance. The Chrome launcher goes straight to the VPN login page.
Photo: mine, taken on a street in my neighbourhood. People in my neighbourhood are constantly leaving cool things on the street without really realising they're cool-looking.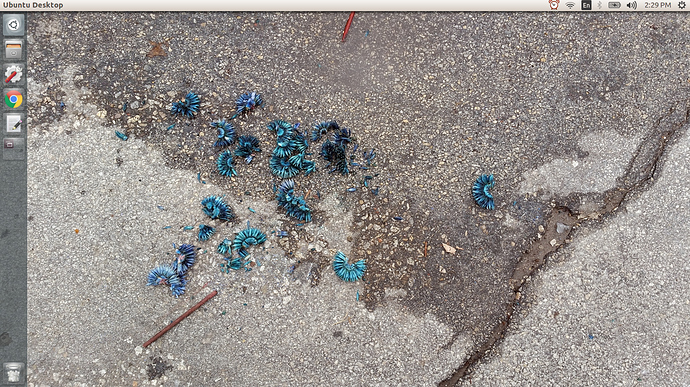 Not showing a screenshot of my work desktop because work would be very angry with me if I did.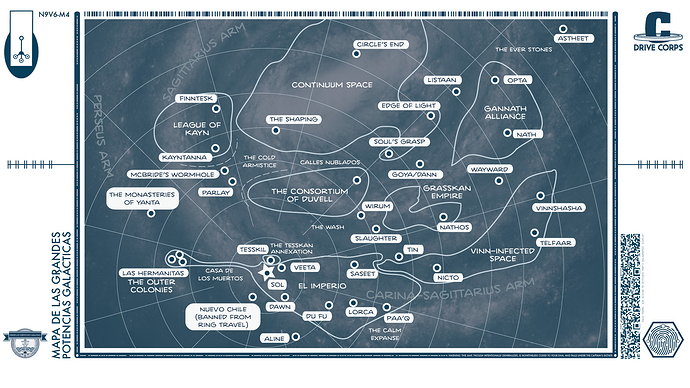 It's the galaxy from Drive and I like it because no one knows what it is (or if they do… Hey, cool, something uncommon in common).
I'm not sure whether this is very Zen or just giving in to the MIC.
I guess in your case it's justified.
One of my relatives decided it was time to leave a TLA (actually a FLA) when he got so bored one day that he drew a picture of his office with him in it looking bored and threw it in the bin.
He was then hauled before Security who told him it was an offence under the Official Secrets Act to make a drawing of his place of work. He pointed out that (a) it was just a generic office with nothing secret and (b) he had put it in a supposedly secure bin. To which the reply was that (a) supposing the Russians got hold of the picture somehow they might be able to deduce where his office was located from the potted plant near the window and (b) how did he know the bin emptier wasn't working for the Russians?
I mention this purely to make the point that idiot bureaucracy is the same everywhere.
Well it turns out it was neither. I've been thinking that the OS was picking them the way that it does the lockscreen photos, and I was happy with the ones it's picked. But it looks like back when I first installed the OS, I picked a bunch of landscape photos and set it to slideshow mode and then completely forgot that I did that.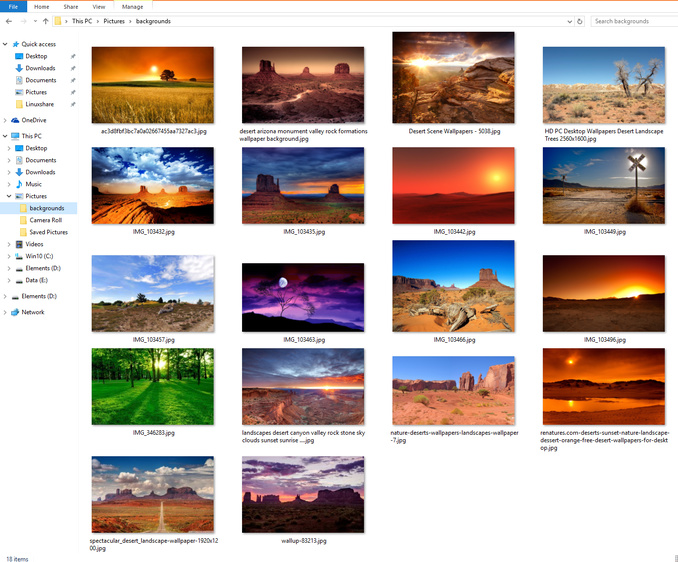 x 1900 x 1200
Of all the shades of all the colors you picked that one.
Okay.