What?


Same message for JemmieDuffs over at the BBS (the same person, I think). Did I miss the news?
That's what I'd always thought.
If you missed something so did I, but @TobinL should know.
Crap. I've always wondered how we would know if a member died. I really am not crazy about the "Deceased" as a status though I guess it is better than nothing. I want to know more.
I sent a pm to the account and cced you and the staff @teknocholer.
For anyone reading, I'll provide an update as soon as we hear back.
The person known here as KeisterButton is NOT deceased, according to her husband.
Which makes me wonder, what triggered the term "deceased" for their account?
Thought maybe she picked it herself. She does enjoy the death pools…
That's good to know.
Uh… yeah.
Just as I've never glibly told someone else "Kill yourself" even in jest, so I would never post anything indicating my demise; folks can call it 'woo' if they want, but I believe that we can manifest some things into existence.
Everybody can be deceased!
If she thinks of herself as JemmieDuffs, then saying 'Deceased' to mean 'Has left the community' seems in line with that persona.
Relieved.
Suggestion for her user card in future: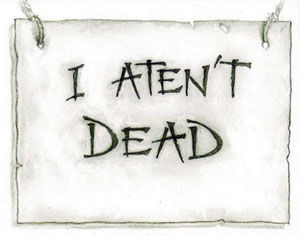 Well, if one did die, who sets the status to diseased?
When shit like this happens online, it makes me wonder, who am I spending so much time talking to, exactly? Just makes the whole online anonymity thing questionable when someone violates my sense of safety with them.
My brother once fell in love with a person who was pretending to be available when actually she was married, and also she pretended to be the person she was pretending to be's best friend. So, basically, she messed with his mind. And he invested SO MUCH into that "relationship."