If Lynda Carter is on it, the Nazis have already lost.
(And that is an amazing ensemble!)
Hat tip to my daughter who sent me the 411. Also, isn't Lynda like 70 now? #aginggoals
Lynda Carter has always been my hero; kudos to her.
Me too. When I was 5, my mom made me a Wonder Woman costume for Halloween, and I wore that thing until it was no longer physically possible. I wanted to be Linda Carter / Wonder Woman so bad.
Word.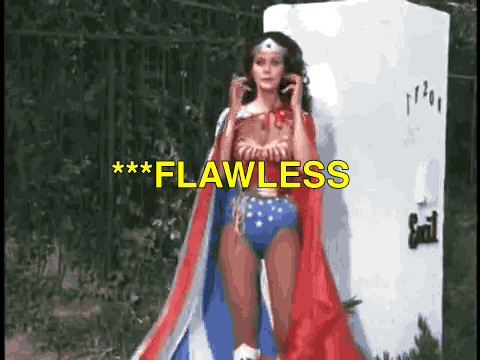 I totally agree. I think she is one of the prettiest women, and she is also a great human being. I cannot even imagine wearing that costume the way she did, with such confidence. I mean really, what a pain in the ass that thing must have been - literally - and she made it seem like she owned it.
Beautiful, inside and out; Lynda's always been a real fence jumper in my book: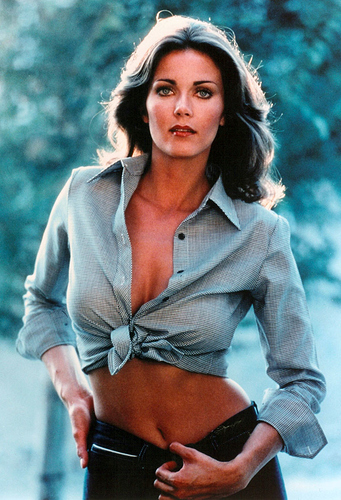 Real talk about that impractical-ass costume; it couldn't have been comfortable at all, and she still rocked it like it was effortless.
Sigh.
Back when I was young enough and shallow enough to have a "type," at least I had good enough taste for that type to be Lynda Carter.
She's totally my type too, if I ever go bi or gay.

In her wikipedia article it says she was warned that women would hate her when she took the role, but she said that she was going to play her in such a way that women would see her as an expression of themselves. I think she accomplished that, and I do think it was harder than it looked to be as beautiful as she, wearing that outfit so well, and somehow get people to see her not as an object.
She pulled it off SO WELL! Even as a small boy I looked upon her portrayal as exemplifying femininity, benevolent authority, generosity, strength, fearlessness, compassion, and drop-dead beauty all rolled up in an objectively ridiculous star-spangled swimsuit that looked, on her, as unimpeachable as Lady Liberty's robes. And as I got older, even my most romantic private thoughts about her WW character were cloaked in a deep need to earn her respect. Such an uncommonly layered response that a TV superhero character could earn, and Ms. Carter, as you say, made it look effortless.
Gotta admit… this thread has made me realise there was still a little bit of little-kid me left that really believed she was Wonder Woman.
"Costume? What do you mean, costume? Oh. Oh yeah. I guess it was. Of course it was."
(And I wanted to be her soooooo much.)
In the late 70's/early 80's, what little girl didn't?
I used to do the spin and everything…