Apparently, ridiculous superstitious attitudes towards black cats are causing a glut of homeless monochromatic kitties.
I used to have a black cat.
He was a very nice kitty. I would definitely get another one (but not immediately; I already have two and a third would turn me into a crazy cat person).
That is really a shame.
Here are some nice photos:
Adopt a black cat on Friday the 13th? What could possibly go wrong?

My first kitty was all black. She came to live with us when I was 5, and she lived to be 21. Wonderful kitty, who made my worst childhood experiences a little better.
At this point, I would totally love to have a black cat, but the way it works with me is that I don't pick the cats. The cats pick me. Like literally, they show up at our place, or need rescuing from the mouser population at an auto shop down the road. So, I'll just wait until a black one comes my way, and welcome them with treats.
Yeah, that song came to my mind as well, but not the original version…
I have calico that is mostly black. The only problem is outside at night she goes invisible. My daughter's boyfriend went out to rescue her once and reached over to grab a large fuzzy ball on the fence, turned out to be a raccoon, very upset.
My last cat was a black cat, which is why my current one is not.
I am still heartbroken over the loss. I am not sure if I have any pictures of Jedi, but I had him for over 20 years, and he was amazing, and the most gentle cat in existence. He adored kittens, and would take care of any one he could. He tricked two that hated each other into getting along, by letting them play with his tail.
I miss him so much.
If someone were to post a song, I would have thought this would be the candidate:

But, then, blues isn't exactly my genre.
I remembered it because I have this album:
Quite the lineup of talent.
Not to take anything away from Stevie Wonder, but it's missing the black cat reference.
Yeah, that was true of the Truth album as well: Beck, Stewart, Ronnie Wood and Micky Waller, with Nicky Hopkins, John Paul Jones, Jimmy Page (uncredited!) and Keith Moon on certain tracks.
Mrs Ficus is the same way. Our black kitty was the most wonderful ever - big, fluffy, sweetest personality, smart (but lazy), and very loving. The only bad luck he caused was to our wallets as he was cursed with various random (and expensive) health issues. He was taken from us far too soon after 14 years thanks to mast cell cancer just a few days after my birthday in 2015. I still miss him every day. Anyway, while I would never say no to another black cat I don't know that Mrs Ficus would ever be able to have another.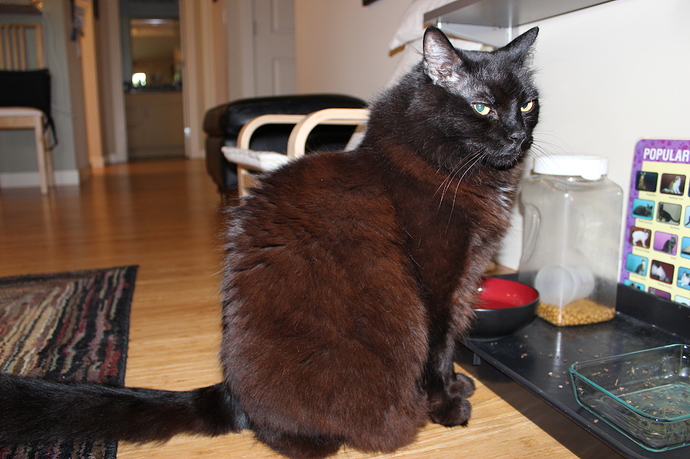 I realize there's jokes about things related to coloration like "tortie attitude" and such but I wish people - including those that should know better like veteranarians - would stop spreading this notion that a cats coloration has any influence on their health, personality, or push dumb ideas around dumb superstitions. Sure, a cats coloration is influenced by genetics (torties and calicos are almost always female, orange tabbies are usually male and female orange tabbies are almost always dilute, and so on) that's about it.
We have a cat-a-day calendar that spouts stuff like that — "furdopolis cats are warm, loving, and playfull" or some such rot. Reads like a horoscope. But the pictures are cute.
We did once have a beautiful calico who was a bit cranky. But a lot of cats are, so so what. She also had mast cell cancer at 9, but we were able to treat it successfully, and she lived to be one month shy of 19. I'm sorry yours didn't make it at least as far!

ETA: What a beauty! I love the dark brown tint.
That is some awesome side-eyeing.
I don't assign any personality based on colouring. I just didn't want to catch a glimpse of a black furball out of the corner of my eye and get the hurt coming up all over again.
I have known cats that run the gamut of behaviour, from Greebo come to life (yes, Pussywillow Charlie, I am pretty damn sure you beat up your fair share of coyotes, given what you did to the dogs) to a neat-freak germaphobe who would come begging for a bath if he got anything greasy or sticky on his fur. We had a cat that loved swimming.
Cats are indiviuals, and anyone who thinks they can predict that is deluding themselves.
The sad thing was he was actually in remission. We caught it early and treated it with chemo that he tolerated like a champ but it has already started to spread at that point. It was congestive heart failure that ultimately did him in. We basically did everything we could within reason to prolong his life without causing unnecessary suffering. I got very good at administering meds and subcu fluids which helped with our other cat (also a cranky calico) when she got to the end of the line at the ripe old age of 20ish.
Rotten luck. But 20ish for the calico is great. I swear being cranky is good for longevity – in all species. I'm trying to put that in practice, but I've had lots of experience.
i've had black cats and torties in my life (currently sharing space with a second black cat), and they are both the most awesome cats. i recommend both to everyone who understands cats in general and really wants one with a lot of personality. i know coloring shouldn't make any difference, but i've never met a tortie or a black cat i didn't like.