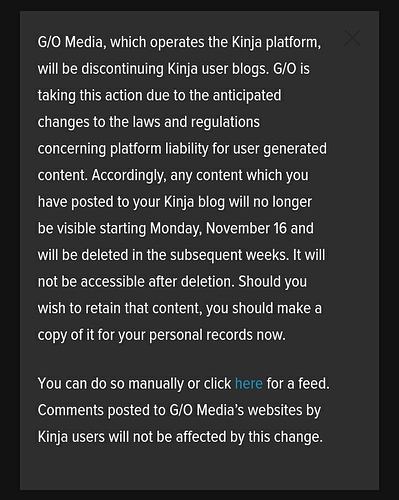 Kinja users woke up today to find their communities and blog posts deleted with just a single day of warning. In a stunning moment of incompetence, Jim Spanfeller managed to delete the Kinja banlist as he pulled the trigger on his long-ago plotted Parthian Shot at the communities he'd muscled into.
G/O Media employees we contacted confirmed our analysis.
Some of the Kinja communities were able to archive their content. Others were not so lucky. Groupthink lost their archives completely. Kotaku's Talk Amongst Yourselves (TAY) community, however, was able to export all posts thanks to the efforts of one very clever member. Jalopnik's Oppositelock, a reader-ran community, was only able to preserve some of the posts.
Within hours of the mass deletion, all communities re-established under their own control and websites; TAY set up shop at https://tay2.org/, Oppositelock at https://opposite-lock.com/ and Groupthink at https://groupthink.blogspot.com/.
G/O Media staff expressed frustration with the ban list deletion. In a time where outlets are constantly closing, Jim Spanfeller chose to destroy readership, annoy staff, and to let trolls run roughshod… all because one retired writer, once, called him a herb.