The polls close soon, go cast your vote. To see when polls close, visit Elections Canada.
I just voted; the person I voted for has a 0% chance of winning my riding (along with pretty much everyone else without a red election sign), but at least something of a message should get through.
Done and dusted.
There may have been minor casualties, but mission accomplished.
I voted in the advance polls over Thanksgiving weekend - I'd already made up my mind, and getting home in decent time for anything from my workplace is always iffy.
Besides Elsewhere, I'm not going near online tonight. I get too stressed following the results the night before.
There. I cast a plastic ballot. Appropriately enough for a woodwinds player, a ballot of purest ABS - Anyone But Scheer…
I'm going to try not to stress you out, but, for schadenfreude's sake: so far, with a decent number of votes counted in the Atlantic provinces, Bernier's PPC are trailing independent candidates by a margin of 2:1 (1589 to 766, or 1.0% to 0.5%, respectively).
Well, that's one trend I can get behind. May it continue.
Still not gonna look la la la… Maybe I'll skip these threads for now so you can talk amongst yourselves.
Maritime Canada results are currently still being tabulated. By Manitoba, we'll know the outcome - majority or plurality.
Saskatchewan polls have just closed.
All the way from Alberta east to Québec, north to Nunavut, and west to the NWT.
Just waiting on BC, then. This feels like 2015 2: Electric Boogaloo
Good news:
Liberal Party plurality has been projected
Maxime Bernier & PPC have been shut out so far
YMMV news:
The other four parties outnumber the Liberals in seat count, so a minority government is very, very possible.
NDP support is contingent on national Pharmacare being passed this new session, while the BQ seems to be going on a bill-by-bill basis.
Hats off to Maxime Bernier of the Rhino Party who blocked the racist Maxima Bernier of the (white) People's Party from getting a seat.
As fun as it would have been for that to have made a difference, Rhino Bernier only got ~2% of the votes; the Conservative candidate beat PPC Bernier by a margin of 11%.
Dammit. I looked.
Back to staring at the CBC.ca auto-updater like it's logging the percentage of fascism in this country. Oh right, it is.
I think @jerwin found a great way to combat climate change denial on the science thread though:
I don't really see the point; other than the final numbers, the only big unanswered question is whether Singh will win his own seat. And even then, it looks like he will.
Unless, of course, your own riding is still undecided. I can see why you'd want to keep an eye on that (my own, predictably, went red with more than 50% of the vote, and over twice that of the second-place candidate).
Because I am a total stress bunny about this stuff, that's why.
At this point it looks like it's mathematically impossible for the Cons to win, but the amount of popular vote makes me want to weep. If we didn't have that first past the post I hate so much, they'd arguably be in position to form a government.
There's a lot of conservatives at work, people who believe in fiscal conservatism and automatically vote Con no matter what happened with Harper (or Ford, or Harris, or Mulroney) and don't think much past that. A lot of them come from either former or current Communist countries and are terrified even of the Liberals, never mind the NDP or Greens. Just like after Trump got elected, I'm going to feel surrounded by fools for a while.
Yes, and although he needed his Washington State ID as secondary/tertiary ID, my son voted with me.
Our newly befriended (hours earlier) octogenarian visually impaired neighbour (immigrant, speaks six languages) walked in heavy rain with us fto the polling station, just to make sure my son and I could find the place, and to talk with us more. I thought we were all voting together, but she had ALREADY voted earlier! It warmed her heart to see my "little" (1.86m) immigrant vote for his first time.
Our candidate was re-elected.
Somehow the conservatives increased(??!??) their votes in my riding, and I am furious to the max.
WHY DO THESE DORKS KEEP VOTING FOR THE ASSHOLE WHO SOLD THE CANADA WHEAT BOARD AND WHO KEEPS TRYING TO PRIVATIZE HEALTH CARE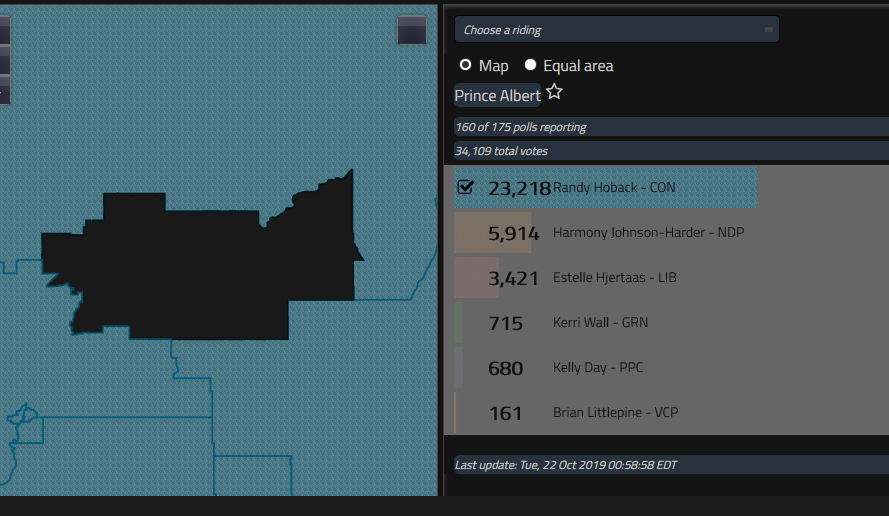 … at least there's only 680 White People's Party members in this town