Always a fucking church. I know, #notallchristians, but fuck.
Yeah, I am very suspicious of anyone who says "I'm a Christian!!!".
I had a boss once who said "I never do business with someone who has that fucking fish on their business card."
Good advice. There are plenty of those businesses around Nashville. I do my best to avoid them.
They're probably equally suspicious of you.
To be strictly fair, there are Jewish and Muslim groups who are equal offenders.
Excuse me, just cause my shirt says "Jesus saves! Everyone else takes 6D damage!" doesn't mean I'm a bad person.
Or could it be the shirt that says "Jesus! He really nailed it!"?
Ok, but what if it's "Jesus saves! He shoots! He scores!!"?
In fact, if I saw someone in that shirt, I'd be more likely to talk to them.
Besides, the people who think their christianity is the dividing line between goodness and badness are unlikely to be really good people. It makes me think that all that's keeping them from lying/cheating/stealing/killing/etc is a fear of hell. That's not goodness, that's compliance.
but if they can do that killin' and robbin' in the context of their religion it's okay (see Crusades, the Spanish Inquisition)
looking toward the door now…
I like that one. How about this?
"Jesus is just like Ivory Soap!" on the front
"He's pure!! (what were you thinking?)" on the back.
I don't wear clothes with words on, but if I had a Jesus T-shirt it would probably say "Jesus: Misrepresented by almost everybody since about 30CE".
that's what He'll say when He comes back and see what the "Christians" in the US have been doing.
edit: how about this?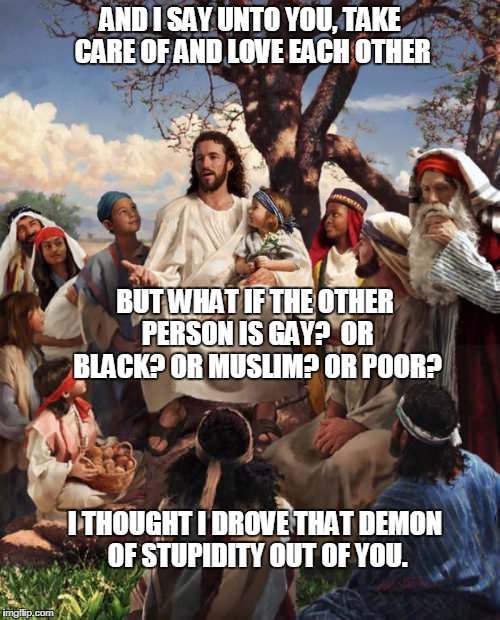 Well, I'm slightly offended.
6DWHAT? Scale matters.
This is the problem with the world. Most of us end rolling d100s except for the few assholes rolling d3s.
Jesus is coming! (look busy.)
Fine!! 6 d20…
better?
gosh…

I was always fond of this t-shirt design.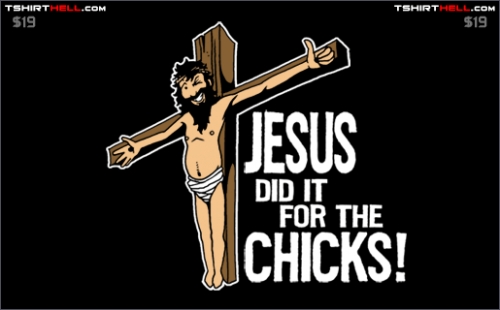 Of course there are, they all worship the same spiteful, abusive invisible father figure.
All the ladies loved Jesus! [spreads arms] He was hung like this!