So apparently anti-immigrant "Conservative" facebook groups and pages are huge in Canada (among the stupid set of the population, mainly Conservative/Libertarian douchebros).
This is the stupidest thing I've seen. I'm reposting it here for posterity: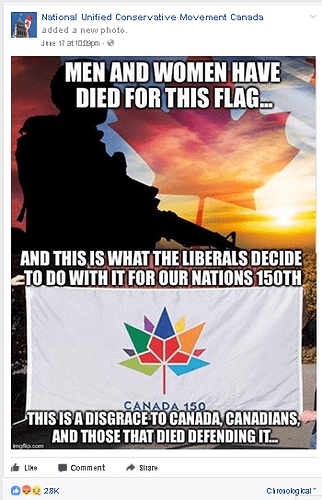 These people are so not based in logic, they're not even wrong because they exist in a world where everything is simultaneously both true and untrue. Schrodinger's Conservative: a person so stupid they'll believe and repost anything as long as they feel it triggers LIEBERALS.
(Canada's flag wasn't a Maple Leaf until Lester B Pearson, and it had a Centennial design on government communication in 1967 - The Canada 150 design is actually drawn from the '67 Centennial design!)
This is the dumbest thing I've seen all day, what about you?