Just saw the replay today. Winston was the clear victor. But those other dogs were pretty darn cute too.
Nyla (and Ghost) have claimed a comfy bed on my desk, right between my PC case and its monitor. They've been kicking things off the desk all week.
(I really need to clear off this desk…)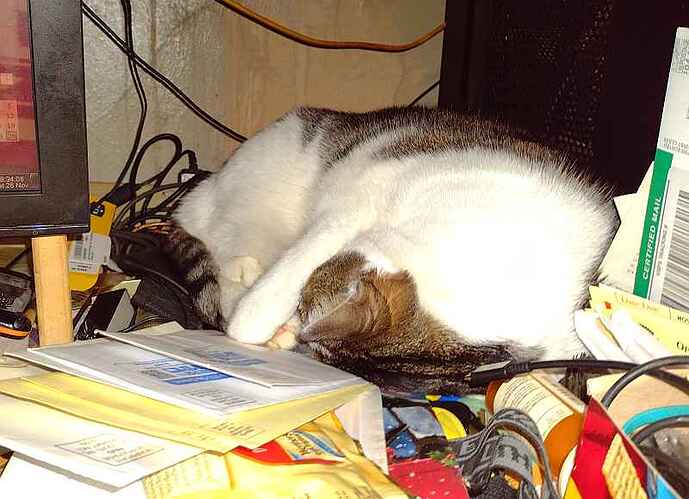 No need, it sounds like they're working on it already.
I briefly considered setting up a small kitty bed in that particular spot, but decided against the idea since it is right next to the ventilated side of my PC. The next step is to get a lightweight A/C dust filter to catch loose hairs before the computer does. (I once experimented with an air filter fan near my desk, but soon realized that the PC fans are many times stronger and better at catching loose hair & dust.)
Currently, Nyla is working as a fuzzy paperweight, while Ghost has been climbing all over me for attention:

(I
have
been battling to clear off this desk, in a two steps forward, one step back kind of way. Since the last power blip killed the old power supply in my PC I've got a shiny new UPS which will eventually fit quite nicely in that spot.)
But is it feline-compatible?
¯_(ツ)_/¯ Probably not, but as with everything else in this house, adjustments will be made.
Mister Wonderful here (George) decided today was the day that he needed to appear on camera. Luckily, the other people in the meeting were unbothered. The presenter even mentioned how cute he is, and it's true, v.v. cute!
He reminds me of Luke.

You might consider PC dust filters like the ones from https://www.demcifilter.com/. I have those on my PC and they work remarkably well. Bought a can of spray air when I went to do an upgrade after 6 years, thinking it would have a ton of dust and fur in there (like you always do), but when I opened it up, it looked almost as new as the day I put it together. So now I just have an extra can of air. And my cats are welcome to sit next to or on the computer case.
And they even attach magnetically! Thanks for the recommendation, these will be much easier to use than my filter sheet + duct tape idea!
Yeah, I cleaned this old beastie thoroughly while replacing its old, blown-out power supply. Going forward, easy-to-clean case filters are a must.
(Short story: The late, great Pretty Polly liked sleeping on top of my color laser printer. That was just fine until some of her long, fine hairs somehow made it into the printer, between the laser and the drum. With much painstaking effort and not a little swearing (at the non-serviceable printer, not the cat) I got it cleaned out, I think, just in time for two different colors of toner to run out. There was no way I was going to pay $150 or so for toner just to test an iffy printer, so out it went.)
I bought a new printer a few months ago, and now that the summer heat is over, it looks like I can finally reclaim the top of the filing cabinet from the kittos. THIS printer will stay covered when not in use, because these two tots get on everything!