Though looking at it, it's not quite the right iconography heh…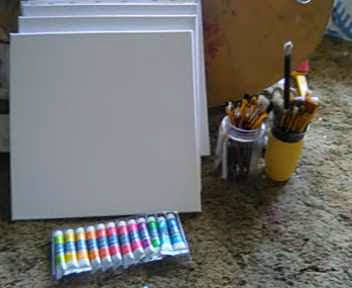 Six blank, new canvases; 12 new tubes of assorted neon-color acrylic paints; old & new brushes. Get the idea?!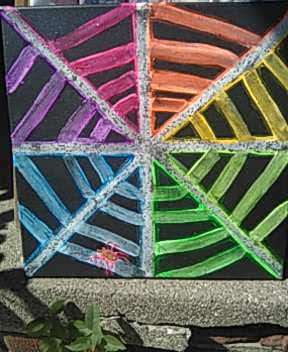 I feel like there's something missing. No, it's not painted-on mummified bugs scattered around on the canvas.
Y'all got any thoughts on this?
Nah, too many "strands". I figgered it out, part-way, at least: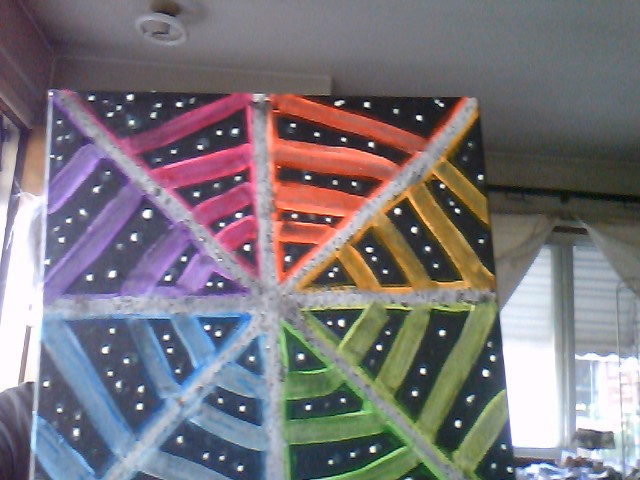 The dots were made w/puffy glow-in-the-dark paint over bigger dots of superfine glitter paint.
Also on deck, a painting that was started by someone else, I have no idea when. It was in a pad of barely-used watercolor paper that I'd gotten at an estate sale in 2004 (I think). Can you tell what was on the paper vs. what I've recently added?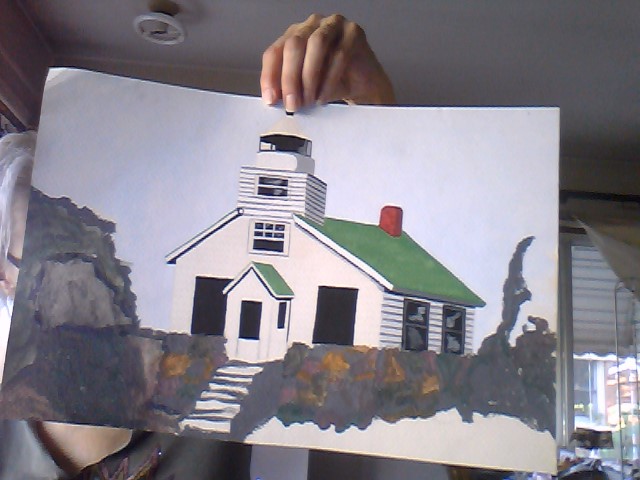 I suspect the house is all that was there . . . . your colors are distinctive.
Do I get a gold star?
Actually, they didn't even finish the house, I had to put in the rest of the doorway, the steps, and the foundation.


The latest: "NeoPlaid".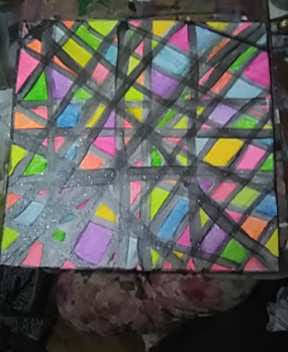 Progress. I broke down and used a brush that's made for oil paints to do add some definition.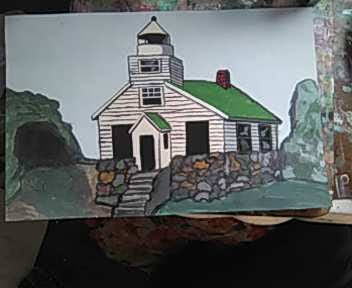 Finished.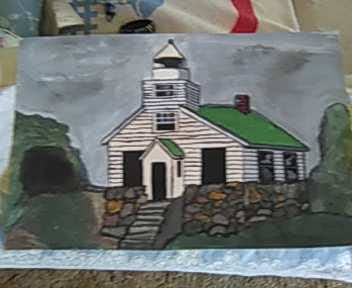 I detailed the arachnid some, and now it's done.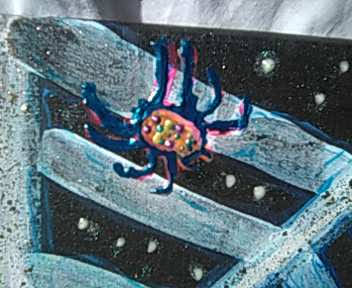 I finally got around to working on the hill for the Psycho stairs. I removed some of the foam to make the stairs fit better, then covered the foam with Sculptamold (a papier mâché type product made with plaster instead of flour). I painted it with tan acrylic house paint and, while the paint was still wet, sprinkled on some ground foam that's used a lot in model railroad scenery.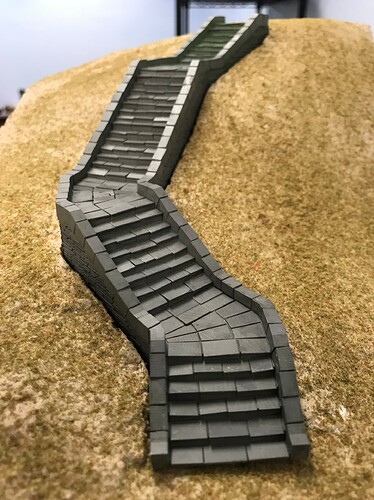 It will need more ground foam, rocks, scrub, weeds, grave stones, etc.
Edit: Replied to Lucy by mistake!
Two finished & one in-progress paintings.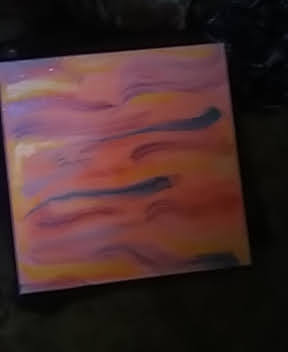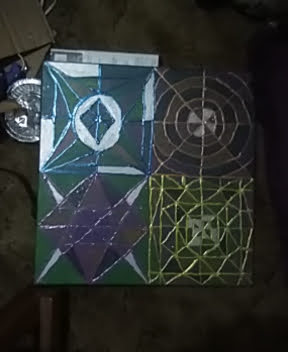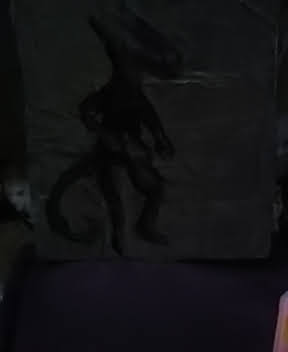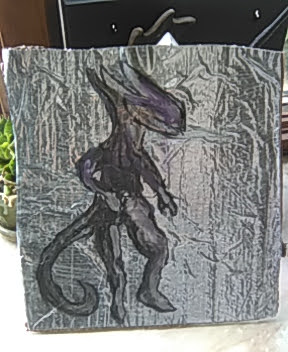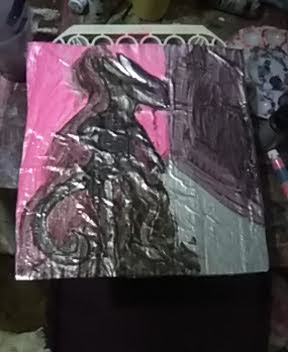 The contours of the Mylar sheet glued onto corrugated cardboard is what suggested the form of a species of xenomorph.
Collage in-progress: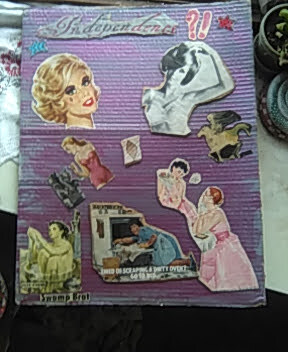 Detail from above: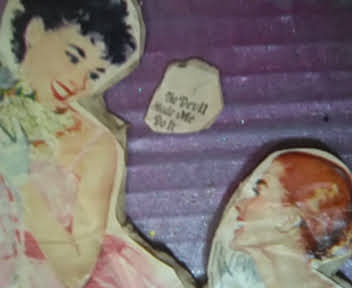 Completed xenomorph.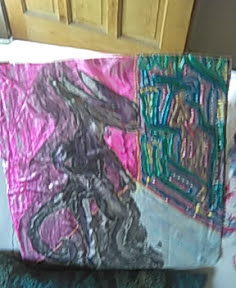 Is that last a version of the bio-thing from Alien with a bunny head?
You're the 2nd person to see the split in the back of the skull as bunny ears, lol. It looks to me more like a triceratops sort of arrangement.
What it is is based on the form of the sheet of mylar took when I glued it to a rough square of corrugated cardboard, where it "bubbled" because there wasn't any glue or it didn't take on certain areas of the cardboard.
I titled it, "Psychedelic Xenomorph".
No doubt it would different in person!
I could use it as a psych tool: "Okay…do you see a bunny or a xenomorph?"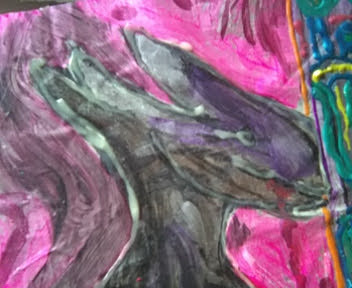 Funny; I was just reading about Rorschach tests today.