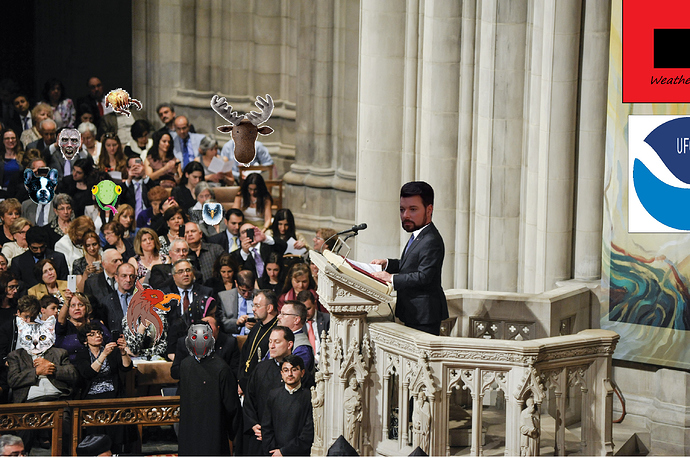 Your Majesty,
deep bow
Govenor,
half-bow
Ambassador and Aldersentients,
quater-bow
Citizens,
hand extended
Aspirants,
hand-over-heart
And all other Weatherbeings,
timba, his arms wide open
It is an honor of the deepest deep to address this august body on such a lovely May day in the sacred Cathedral of St. Marrowbone. Since I have arrived on Weatherby, I have witnessed a most remarkable societie, beset by challenges and yet most uncommon in beating the odds to achieve a certain kind of excellence.
The City of Weatherby faces threats, from the plague, from sketchy realtors and from sketchier tonics. The Planet of Weatherby is endangered by the blight, by New Prussian aggression, and by the fifth estate known as censorship. All while the System of Weatherby is under siege by drug-runners, venture geneticists, and unchequed profiteering.
In the midst of such surging tides, a young sentient might become unmoored and set adrift. Each day, young citizen-aspirants have lost their lieges to the plague, to impoverishment, to peculiar snake oils, and to the ignoble calumny that befalls those forced to downsize quarters. All of Weatherby risks losing great richness of societie if such down-luck citizen-aspirants are lost to the vices of gambling and other seductions of the easy money on the side alleys of society.
In seeking for an amelioration to the plight of wayward youths, I have the deepest gratitude for the support of Admiral James Riptide. It was through his unique passion for the victuals of Weatherbean Life, anchored by his deep tendrils in his distinguished service to the United Federation of Oceans and Seas, that inspired this initiative: the Distinguished Appointment to Commission in the Academy (DACA).
The Distinguished Appointment to Commission in the Academy is a unique opportunity for young sentients of promise to enroll in Starfish Academy, the officer training school for the United Federation of Oceans and Seas (UFOS). This opportunity will be afforded to one young Weatherby sentient a year, regardless of citizenship status, lineage, ward, patronage, or any other encumbered societal burden. It is a chance to be reborn again.
Make no mistake, deciding on the military life is not for everyone. Some joke that one does not serve the Navy, one marries it. To embark upon a space navy career often requires leaving one's home, one's parents, one's patron, and one's love. A Naval Commission is not a fit for those who wish to pursue the domesticated life of tranquil suburban planetoids. And yet, for some, such as me, the sea of the starry sky has always been my greatest paramour.
With that, it is my privilege to offer the first of Weatherby's Distinguished Appointment to Commission in Starfish Academy scholarship to:
Your majesty, your governership, and other exalted beings: thank you for your attendance on this historic day.
May the Fourth Be With You.
propose @liversnaps-grayson 
venue 1