[Quick Link: Table of Contents]
[Quick Link: Turn Options]
Turn Deadline: Friday, Feb 23 @ 11pm EST
---
Mr. St-Patrick-Hartbrooke, Lt. Brummell (ret), and Ms. Honeyvenom choose to take up residence in an acceptable neighborhood almost immediately, certainly to their advantage in the upcoming salon season. Others continue to bunk at the club rather than seek more private accommodations.
Meanwhile many wise and clever investments are made (save for one outstanding exception which has yielded a valuable life lesson instead). Scarlet sashes are all the rage this spring, and those sporting them will be found even more fashionable than usual.
Amidst all the bustle, Mr. Dipswitch and Mr. St-Patrick-Hartbrooke find themselves feeling slightly run down. Mind you, that's almost certainly not the plague. Almost certainly.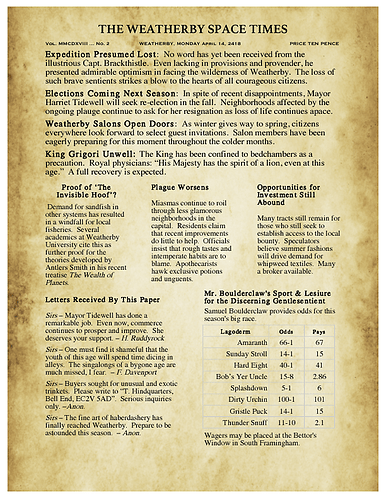 [GM Notes: If you have not already done so, I urge you to consider setting topics with the 'space_abbey' tag to 'watched' in your profile. This will help ensure that you'll be notified of all new topics and updates.
Turn options will be posted tomorrow evening at the usual hour. Errors may yet exist in the character updates below in spite of my semi-scrupulous review. Please PM me should you find any errors or have any questions about the updates.
ETA: Corrected payout for Gristle Puck]