[Quick Link: Table of Contents]
[Quick Link: Turn Options]
Turn Deadline: Friday, Mar 09 @ 11pm EST
---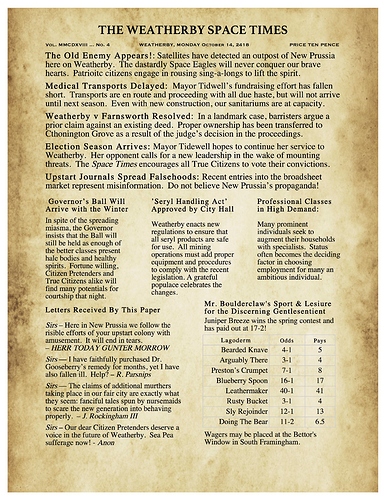 The plague continues to make inroads among Weatherby's finest. One can only imagine the toll it must take in the less fashionable neighborhoods. Although Mayor Tidewell's funding initiative has fallen short, several medical barges continue to proceed toward Weatherby at flank speed hoping to arrive in time to prevent the most catastrophic outcome.
The barristers of summer have been hard at work analyzing sketchy agreements regarding the sale of recent tracts only to discover via the archives that other households may have a prior legal claim. The landmark case of Weatherby v. Farnsworth will likely prove instrumental in resolving future disputes. One may certainly surmise that they will continue to work with all possible vigor in resolving any remaining controversies as to the provenance of these tracts.
Games of polo, badminton, and croquet are played with enthusiastic vigor, and the subsequent injuries suggest that the current rules may need to be revised to secure the safety of future players. For the moment, the cuts and bruises resulting from spirited play are worn as badges of honor.
With the Governor committing to next season's cotillion, all those with wards should make sure to be extra prepared in advance!
[GM Note: as always, please bring any discrepancies you may notice in my bookkeeping to my attention and I shall endeavor to resolve them with all due haste.]