[Quick Link: Table of Contents]
[Quick LInk: Turn Options]
Turn Deadline: Sun, Mar 18 @ 5pm EDT
---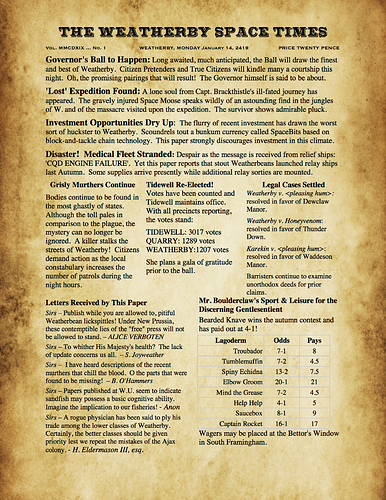 Hope turns to despair until it is discovered members of Leviathan's have managed to bring some of the relief shipment to Weatherby. The Mayor herself calls Aaaakzeee St-Patrick-Hartbrooke III (@nimelennar), Lt. Erythro Brummell (ret) (@daneel) and Cmdr William T. Piker (@fintastic) to City Hall for a closed door discussion. A desperate populace awaits the news.
The membership of Leviathan's has proven their mettle through vast increase of personal fortune. You have done your family name proud to turn the simple proceeds of your estates into a network of investments that span the planet! Yet among the ledgers and letters, thoughts begin to turn toward affairs of the heart. What worth this fortune without a family, an heir?
The Governor's Ball represents an opportunity for True Citizens to meet and court potential partners among the ranks of Citizen Pretenders. Once formally pair bonded, the Writ of Matrimony grants license to produce an heir. Neither gender nor species presents an obstacle to modern technology. In addition to the timeless option, the Grigorian Empire allows the best genetic expressions of the pair to be harnessed using in vitro fertilization, cloning, digitization, replication, cybernetic enhancement, and other exotic options.
Don your very best outfits, practice your waltz, and have your dance card handy!
---
[GM Note: In this next phase, our focus has shifted from wealth building to social climbing and courtship. RANK and character stats are much more important. While still useful, income and wealth will play a lesser role during this portion of the story.]