[Quick Link: Table of Contents]
[Quick Link: Turn Options]
Turn Deadline: Sun, Mar 25 @ 5pm EDT
---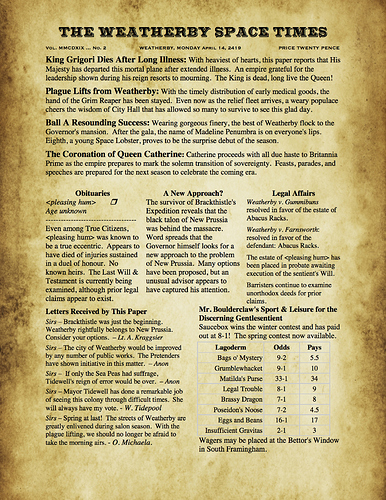 The news of King Grigori's demise saddens all hearts, but the new Queen and her capricious ways have been brought joy to many moments. It is sincerely hoped that this playful personality will shine through as she takes command of Britannia Prime and her colonies.
Many move themselves to better neighborhoods as an improvement in station and stature. Invitations to salon season shall surely be flowing shortly, and one must be ready to embrace the opportunity.
In the days and weeks following the ball, the thoughts of many turn to the moments spent in dance and quiet conversation with various partners. Although many find they must scratch off a promising pairing to a rival preferred, time enough exists to correct the heart. One Ms. Farnsworth, however, finds herself most surprised by the outcome.