[Quick Link: Table of Contents]
---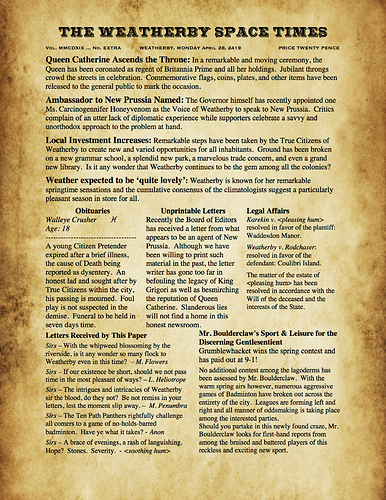 Trees and flowers blossom across the parks and promenades of Weatherby and the scent is nothing short of intoxicating. On a day like today it feels as if anything is possible. Letters have been sent and replies have been received. Upon reading your letters, you reflect on the implication of those written words.
City Hall proudly announces that construction will begin immediately on the newly announced Karekin Grammar School, the eagerly awaited Brummell Park, the prominent Farnsworth Trades Concern, as well as the Weatherby Free Public Library.
During this intermission, one should expect to recount the events that transpired when calling upon the recipient of your first letter as well as reminisce about the public details of your stroll through the Weatherby Botanical Gardens with the recipient of your second letter.
Romantic rivals still vie for the attention of certain Citizen Pretenders. Specifically:
Ms. Rodchaser (@mrmonkey) will arrive to pay a call to Lizzy Heliotrope, only to find Mr. Farnsworth (@Wisconsin_Platt already in attendance.
Lady Jane (@penguinchris) and Dr. Franksenketchup (@old) will arrive at the Botanical Gardens at the exact same moment to take a walk with Oblate Spheroid.
Mr. Dipswitch (@ghoti) will arrive at the Botanical Gardens to find Madeline Penumbra preparing to take a stroll with Mr. St-Patrick-Hartbrooke (@nimelennar)
Hearts are wooed in more ways than one, however. Where one True Citizen pays a visit, another yet may take a turn about the gardens. Keep a close eye on your romantic rivals lest they best you in the battle for affection.
Letters exchanged in the spring of 2419