[Quick Link: Table of Contents]
[Quick Link: Turn Options]
Turn Deadline: Fri, May 04 @ 11pm EDT
---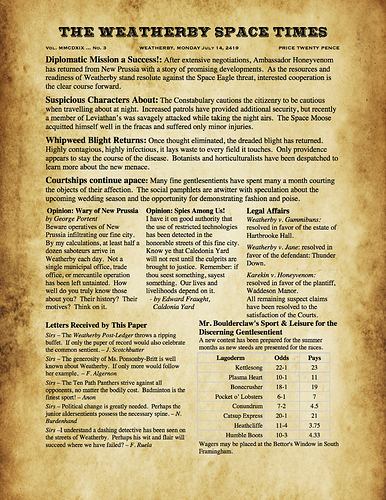 Although events continues to churn about both the city and the planet of Weatherby, several evenings are spent among peers and families around sumptuous tables set with finest fare. After weeks and weeks of planning, the tables are set, the candles are lit, and the delicacies are revealed one by one to each excited guest. Stories are passed around of the creative dishes, the latest events, and the futures of those seated at the table.
New Prussia continues to be a popular and controversial topic. Although the sudden whipweed blight has presented problems for more than one member of Leviathan's, at least the legal provenance of the last problematic parcels of land have been settled. And have you heard? The tragic and untimely death of Walleye Crusher is being investigated more closely. Is he the latest unfortunate victim of the recent spate of murthers in the city? While speculation may be endless, dessert is certain. At the end of the evening, you thank your host and return to your apartment keeping one eye over your shoulder. One cannot be too cautious these days.
As your guests depart, the prospect of matrimony looms on the horizon. Having secured the blessing of the respective families, all that remains is to ask the question.