[Quick Link: Table of Contents]
[Quick Link: Turn Options]
Turn Deadline: Saturday, Mar 03 @ 11pm EST
---
Those with better reputations find their way to the better salons, while others pass the time in the presence of stimulating ideas. Two new folios of verse are published to respectable acclaim while others rub elbows with more rarified individuals. And certainly, thoughts begin to turn to the Governor's Ball in the winter.
Operations are expanded, additional tracts are secured, and a particularly memorable lecture is given at Weatherby University by Jean-Rhys Witherspoon Wilhelmina Winnifred Rodchaser née Westingham. Everyone feels properly connected to the spirit of the age sporting new bowlers, bonnets, and hats.
And yet additional members of Leviathan's take ill even as Mr. Dipswitch and Mr. St-Patrick-Hartbrooke feel ever worse themselves. What will it take to lift the miasma from Weatherby?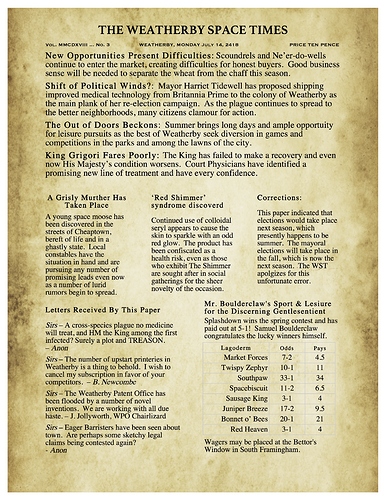 [Turn options will be posted tomorrow evening at the usual hour. I've double checked the outputs of this round but not triple checked them. Should you find any errors or have any questions, please PM me posthaste.]